RacingLine
Stage 3 Forged Monoblock Big Brake Kit
Our all-new Stage 3 Forged Monoblock 6-piston Big Brake upgrade is simply a level above anything else on the market.
From 18,952.50 AED including VAT @ 5%
Import shipping and customs duty all inclusive.
Vehicle Compatibility
Cant see your model?
Why Upgrade
The RacingLine Stage 3 Forged Monoblock Brake Kit moves braking technology to a level above anything seen before in this market. Our design vision was made possible by our advanced 5-axis CNC manufacturing techniques to give this kit more in common with top-level motorsport components than typical aftermarket parts. The result is a combination of ultimate track performance with lightness, stiffness and beautiful attention to detail.
Each lightweight Forged Monoblock caliper is a one-piece construction that starts out from an ultra-strong forged billet. Rather than two halves bolted together, our design takes a complex 5-axis CNC machining procedure to build, usually reserved only for the highest-specification motorsport kits.
The result is a 6-piston caliper that is both stiffer and lighter than any other, combined with exceptional cooling characteristics and stunning detailing.
Despite the size of these calipers, they weigh in significantly under the mass of the factory ones. The caliper, pads and bracket assembly together weigh 5.3kg (11.7lb) vs 8.6kg (18.9lb) for the factory Golf 7R / S3 equivalent.
The kit offers a choice of 355mm or 380mm fully-floating 'triple-grove' two-piece discs giving vastly greater heat capacity, so reducing the effect of fade.
Key Features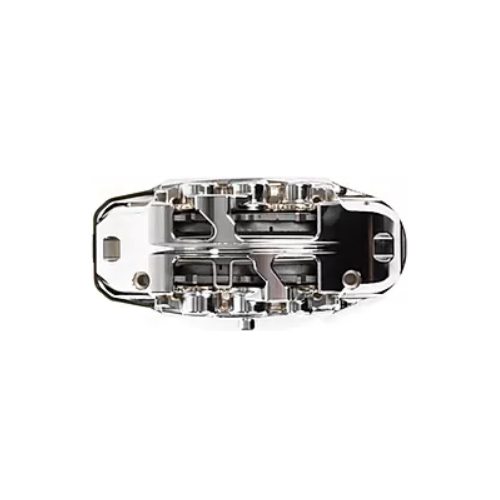 Monoblock
The 'Forged Monoblock' construction of our 6-piston aluminium thin-profile calipers give extreme stiffness and light weight, and aid in wheel clearance packaging.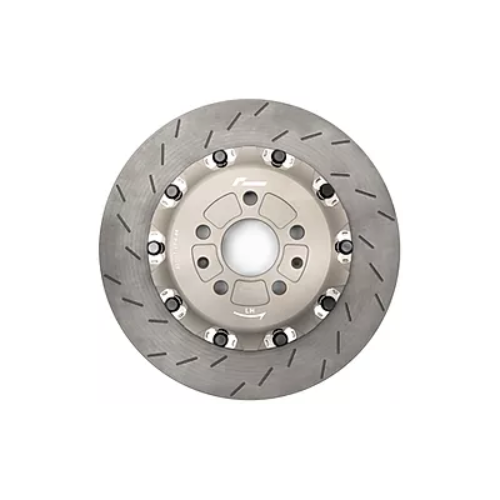 Disc Quality
Two-piece floating high cast carbon discs - a mixture of high quality steel combined with carbon; giving a far higher friction coefficient compared to normal steel rotors. In either 355mm or 380mm diameter.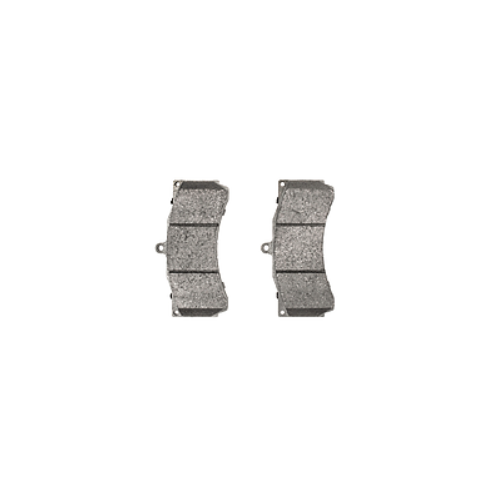 Pad Choice
Composite Ceramic Fast-Road Pads are included. We use a generic pad size, meaning a wide choice of pad brands & compounds are available if you're planning hard track use.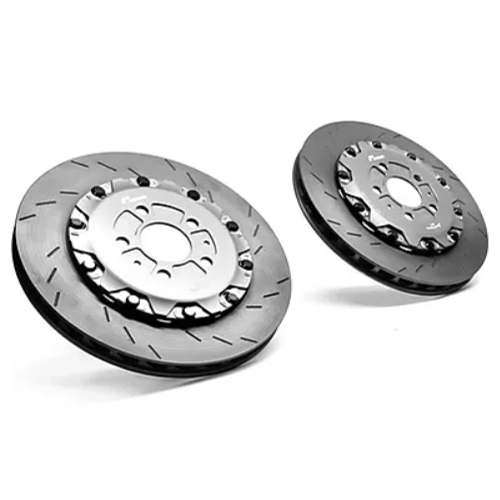 Fully-floating
Fully floating mounting between disc and bell allow for thermal expansion and contraction to avoid cracking. The anti-rattle mounts keep it quiet.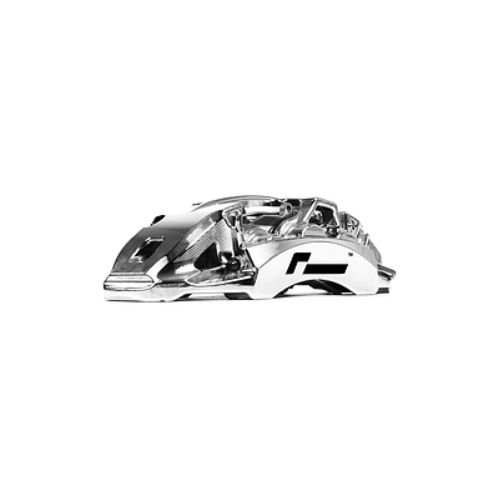 VWG-Specific
As our kit is engineered exclusively for VWG cars, we've developed piston sizes perfectly matched to master cylinders and servos for beautiful progressive pedal response.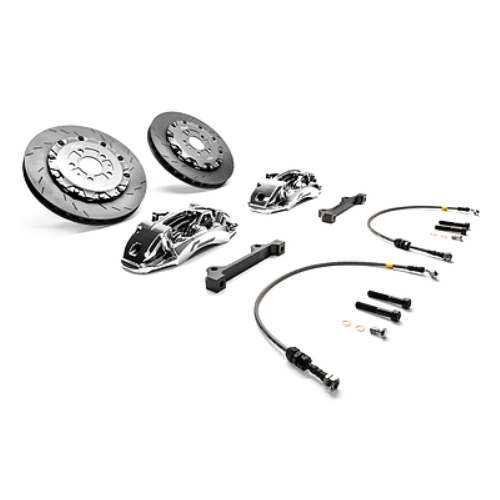 Full Install Kit
Everything you need for installation: discs, callipers, mounting brackets, fast road pads, braided steel lines. Plus the option of Hub Adaptors for extra wheel clearance. Bolt on & drive!
Hub adaptors for perfect fitment
Clearance over big brake kits is always a challenge, especially when used under factory wheels. 
RacingLine's brake kit features our unique design that allows these 5mm Hub Adaptors to be solidly, mechanically mounted onto the front face of the disc to give you that extra clearance. No more adding loose spacers onto your car (and approved in markets where spacers are illegal).
Changing your rims? Swapping from summer to winter wheels? Or track to road wheels? No problem, the Hub Adaptors are installed and removed in minutes.
​
Stopping Distance
Our testing shows that these brakes will stop a standard Golf 7.5 on factory road tyres from 60mph (100kph) to zero in just 2.43s. But braking upgrades aren't just about the stopping difference for a single stop.
No, the main reason for using bigger brakes is to increasing the heat capacity when you're stopping hard again and again. This really matters for repeated stopping when, say, you're running hard down a mountain pass with no cool-down, or working the car hard around the track.
This really shows on our testing. After just five hard stops from 60mph (100kph), the difference in stopping distance between stock Golf 7.5R brakes and the RacingLine Performance Brakes is getting really noticeable. The factory brakes are fading fast, the pedal is getting closer to the floor and all the 'bite' has gone. Increase the speeds, or do more heavy stops and the factory brake set up is really starting to get beyond its limits.
Meanwhile, the RacingLine brakes perform the same on stop 5 as they did on stop 1. The pedal is firm, the bite is still there, and the feel underfoot is still as reassuring as ever. And ready for more.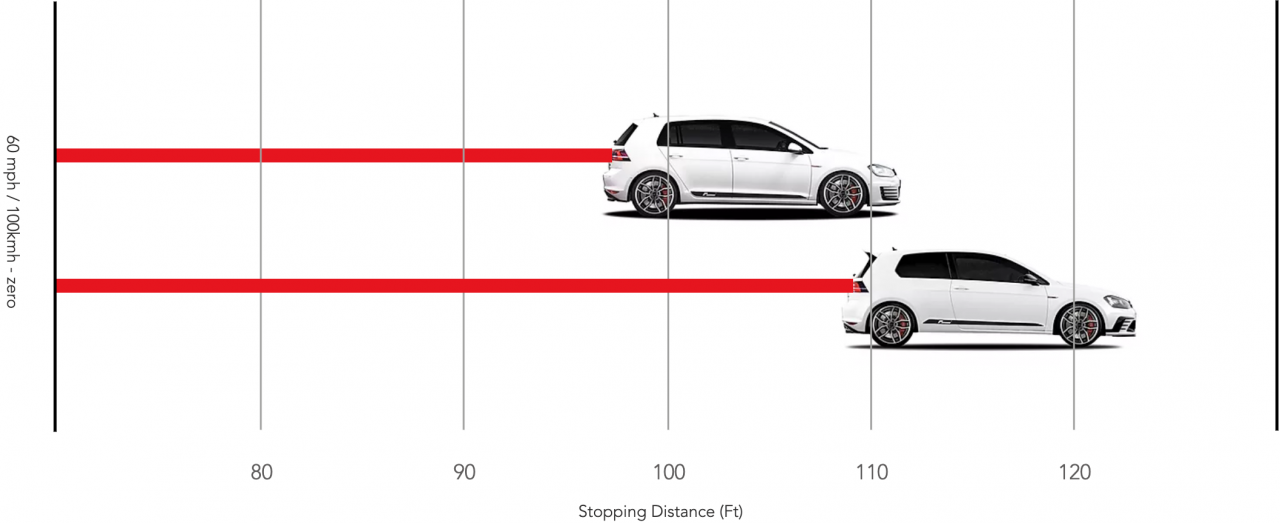 Whats in the kit?
See below the list of components included in the kit.
Monoblock Brake Caliper pair
Caliper Mounting Bracket pair
Full bolt mounting kit
Braided Steel Brake Line Set
Fast-Road Brake Pad Set
Triple Groove 2-piece brake disc pair