RacingLine
Oil Management - Catch Can Kit A5 PLATFORM
Drive without limits thanks to the new A5-platform 2.0 TFSI EA113 Oil Catch Can Kit.
2,646.00 AED including VAT @ 5%
Import shipping and customs duty all inclusive.
Vehicle Compatibility
Cant see your model?
HOW IT WORKS.
Not all catch tank kits are equal. Designed with a built-in engine baffle plate, this system is designed to aid engine oil control as well as catching unwanted oil and water vapour and retain oil in the engine under high-G cornering and braking. The 3 way baffled catch tank effectively collects excess moisture and oil vapour, keeping your intercooler and inlet tracts clear of oil build-up residue, whilst providing cleaner airflow through the inlet manifold and ports.
CATCH TANK FEATURES.
This catch tank is machine welded for the best possible finish before being coated in the distinct "crinkle black" powder coat. All this is to ensure the RacingLine catch tank stands the test of time and retains its looks.
Easy level measure with our built in dipstick.
Drain Plug at the base of the tank for easy disposal of excess fluids.
Our catch tank locates on the side of your engine mount and utilises the original chassis bolt, retaining a true OE appearance.
The factory carbon canister must be removed to allow our larger can to be fitted. Please check on legality in your local market before purchase/fitment.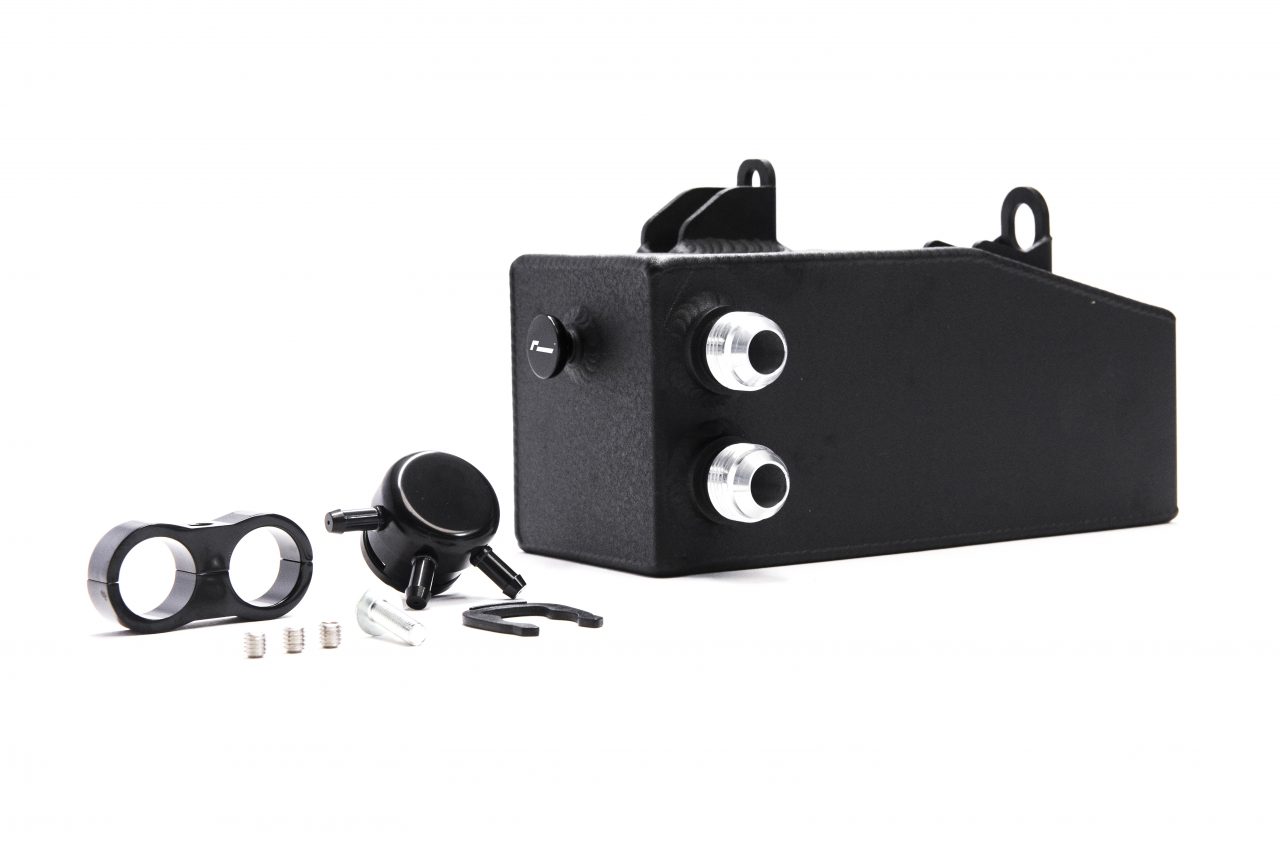 SO WHAT'S IN THE KIT?
Replacement PCV breather plate
Baffled breather cap
Breather hose from cap to catch tank
Baffled catch tank
Breather return hose from catch tank to inlet
Oil catch tank dipstick
Catch tank drain plug
AN-10 "210 series" oil lines
CPE synthetic inner rubber lining with reinforced stainless steel braid
Fixing kit containing all required bolts, washers and rubber o-ring cord.