This oil catch tank kit is for the Audi TTRS 8S and Audi RS3 2017-on,
2,016.00 AED including VAT @ 5%
Import shipping and customs duty all inclusive.
Vehicle Compatibility
Cant see your model?
This oil catch tank kit is for the Audi TTRS 8S and Audi RS3 2017-on, developed by our in-house development team. Not only is it beautifully designed, it has been created to capture the maximum amount of harmful contaminants, including oil deposits, unused fuel vapours and moisture, all of which would ordinarily make their way back through to the inlet of the engine.
Extensive testing has proven our oil catch tank kit's ability to effectively reduce sludge and carbon build up, in turn allowing the engine to both breathe and perform more efficiently. It can therefore be viewed as a genuine performance enhancing product and one we recommend, particularly if you are planning more advanced power tuning at a later date.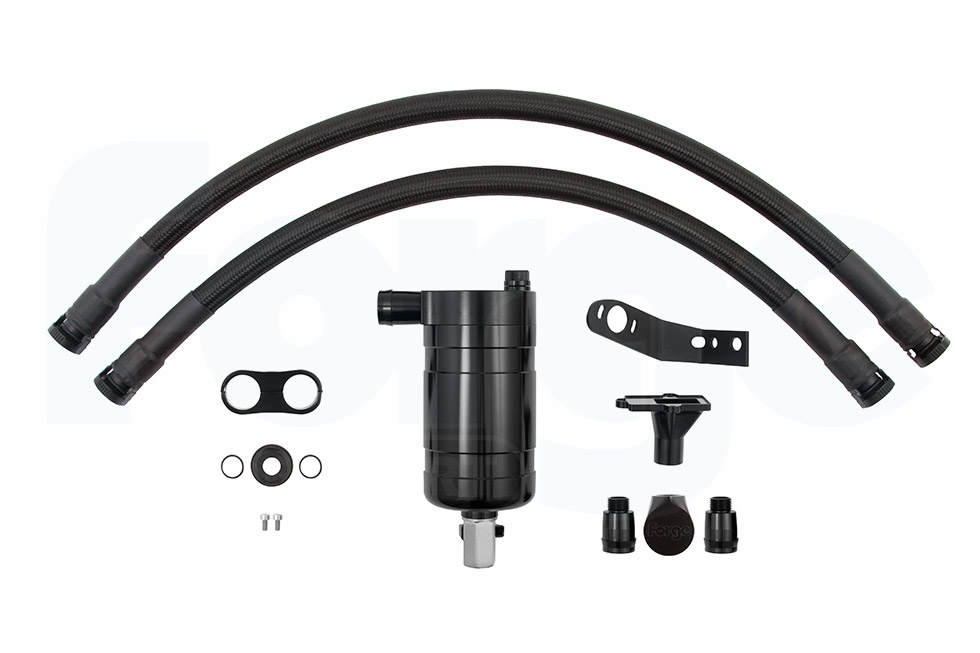 The 0.4l (400cc) catch tank boasts a slew of features intended to make it both easy to check and simple to drain, including a dipstick for level inspection and a well placed drain tap.
The design of the kit has also been carefully considered, hence its inner tube which is constructed from anti-static smooth fuel resistant nitrile rubber. This is paired with an outer cover made from reinforced stainless steel wire braid (a Forge specialty), specifically a partial inner braid and a full cover outer braid. We developed this complex arrangement in order for the tank to be resistant to both pressure expansion and vacuum collapse, and also to enable the kit to function within a clearly defined temperature range – 54°C to +150°C (-65°F to 300°F)
Finally, this kit includes machined billet fittings that are anodised black to form an OEM-looking product when installed.