034 Motorsport
X34 Carbon Fiber Cold Air Intake System for Row (Non-USA) Vehicles
034Motorsport is pleased to present our X34 Carbon Fiber 8V Audi RS3 2.5 TFSI Cold Air Intake System for the latest Audi RS3 Sportback sold outside of the US! This intake offers horsepower and torque gains throughout the powerband,
4,221.00 AED including VAT @ 5%
Import shipping and customs duty all inclusive.
034Motorsport is pleased to present our X34 Carbon Fiber Cold Air Intake System for the 8V Audi RS3 Sportback!
034Motorsport's engineers spent extensive effort to develop a complete cold air intake solution for the first generation 8V Audi RS3 (with iron block) that yields horsepower and torque gains over the well-designed factory airbox. During the development process, many iterations were designed, prototyped, and tested, which resulted in this beautifully-manufactured Carbon Fiber Cold Air Intake System.
MAXIMIZING AIRFLOW
034Motorsport engineers first created a CFD-optimized carbon fiber intake tube, which is a direct, high-performance replacement for the plastic factory accordion hose. Using CAD software and 3D scanning technology, 034Motorsport was able to maximize the cross-sectional area of the intake tube while being mindful of space constraints, including the factory high-pressure fuel pump and firewall.
The resulting part is a functional work of art – maximizing performance given the factory space constraints and featuring smooth transitions that ensure optimal airflow to the turbo inlet.
034Motorsport 8V Audi RS3 2.5 TFSI Air Intake Flow Analysis
MINIMIZING INTAKE AIR TEMPERATURE
To ensure that the 034Motorsport X34 Cold Air Intake System draws in cool, dense air, the system includes a carbon fiber heat shield to replace the upper airbox. Bolting to the factory lower airbox, this heat shield allows the high-flow conical filter to breathe cold air from the factory inlet duct before the radiator.
Both the carbon fiber heat shield and carbon fiber intake tube are designed to aid in isolating cold, dense intake air from the heat of the engine bay.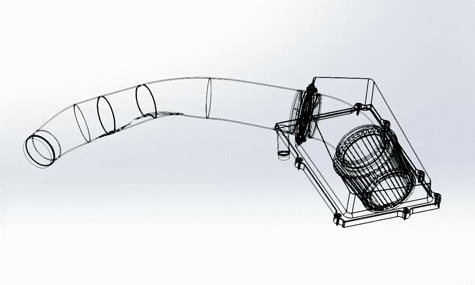 OEM+ FIT & FINISH
034Motorsport carefully selected the carbon fiber weave on the intake tube and upper airbox heat shield to match the factory carbon fiber engine trim found in the 8V Audi RS3's engine bay.
The X34 Cold Air Intake System for 8V Audi RS3 was designed to fit like a factory part, and mates directly to the turbo inlet pipe and factory lower airbox to provide an OEM+ look.